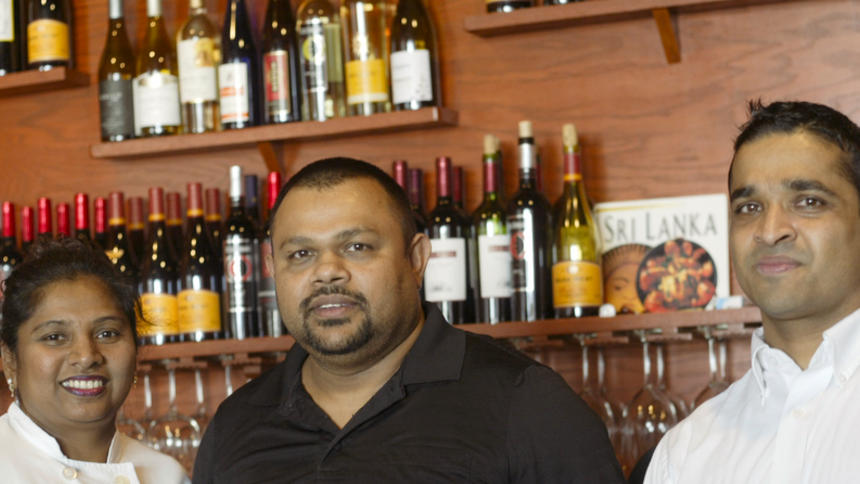 The House of Curry hasn't been open long but it's already got some fans. In fact as one customer left lunch late last week he couldn't help but gush.
"Fantastic as usual," he said to Vini Dissanayake as he left.
Dissanayake and his business partner Nalaka Abeywickrema opened for business in mid-December. The restaurant is located at 3420 150 St. #119.
House of Curry serves Sri Lankan cuisine. Walk through the front door and the smell of the spices warms the nostrils.
Dissanayake said they use spices that are naturally grown in the rain forests of Sri Lanka including cardamom, cinnamon, saffron, ginger, nutmeg, cumin and more.
The menu features appetizers, salads, rice dishes featuring different meats including shrimp chicken and Lamb, and Sri Lankan specialties. Dissanayake said specifically the Kottu Roti dishes are a favorite. Kottu Roti is a traditional street food prepared with shredded Dodhamba Roti, sautéed vegetables, onion and eggs and is served on a banana leaf.
For those who enjoy more traditional curry dishes, those are available too including chicken, fish, shrimp and lamb curries.Besides beautifully flavoring meats and vegetables, Dissanayake said many of the dishes provide health benefits including disease fighting. The restaurant has a number of vegetarian options as well.Dissanayake said they do not use dairy products, instead opting for coconut milk.Dissanayake and Abeywickrema met in Los Angeles while working for a catering company. The two men had a mutual friend who is a Buddhist priest in Minnesota. The friend suggested they come to Minnesota and open a restaurant.Dissanayake moved to Minnesota a little more than a year ago. Abeywickrema moved here several months ago. The two hope their business venture will be successful. And while both commented that Minnesota weather is a big adjustment, both said they have received a warm welcome from Rosemount residents."People are friendly and helpful. It's very safe here," said Dissanayake.The House of Curry offers a lunch buffet from noon to 3 p.m. Tuesday through Sunday. The restaurant is open for dinner from 5 to 10 p.m. Tuesday through Saturday.In addition to dine-in the restaurant offers take-out and catering services. For more information visithouseofcurrymn.com or call 651-344-7744.